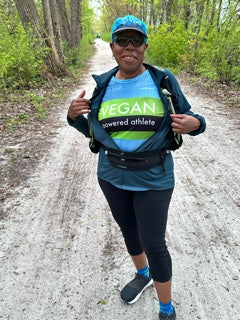 TEAM VPA WEEKEND SPOTLIGHT - Ila @ultra_ila.
Welcome back Ila @ultra_ila. consistent, focused and determined come to mind when describing Ila. Her drive and discipline are unmatched!
Greetings! My name is Ila (eye-la) Allen, and this is my second year with Team VPA. I became vegan due to health reasons (overweight, high blood pressure, and the worst Type 2 Diabetic all with medication). Once I managed to get things under control, I decided to turn vegan to see if I could, well I never looked back. With
that being said, I took up running at the age of 54 starting with a 0-5K app on my phone. I needed to exercise, and just started slow to just get moving. I got hooked after my first race, and continued with many road races. Then I found ultra running and the trails therefore, ditching road races. Who knew one could fall in love with nature especially a city girl like me. My health is awesome, I have lost 70 lbs., NO medication, NO high blood pressure, NO longer diabetic, and feeling fantastic at 65 (to be 66 in Aug.). I want people to know that it's NEVER TO LATE to make changes when it comes to your health. Vegan + Running = Good Life! I'm so happy to be vegan, for it fits my lifestyle, and if you take care of your body, it will take care of you!!