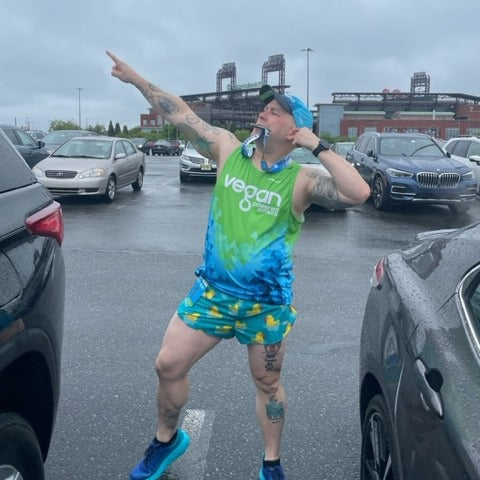 TEAM VPA WEEKEND SPOTLIGHT - John @wrenxxx
I made the jump to vegan 7 years ago. Despite my reasons always being ethical first, it was researching nutrition for triathlon that got me to stop dragging my feet on making the jump to veganism Going all in has been one of the best decisions not just for me, but for the animals and the planet. I noticed a complete change in my recovery and just overall feeling, not just physically but spiritually as well.
At
first, I dove headfirst into activism and I, like a lot of animal rights activists, went about it in the wrong way. Protested the wrong way, lectured and looked down on meat eaters, was just a judgmental menace. I felt like I had to force people to make the choice through any means necessary. I soon realized that type of action is typically met with a total opposite reaction. It drives people away. Now I take the educational approach and I try my best to lead by example. I think one of the biggest hold ups in getting others to switch is the stereotype that "vegans are these weaklings" and are on the verge of death from malnutrition. This is a hard stigma to break. What better way to do it than rock a kit that says VEGAN in big letters while I complete an Ironman?
This is where TeamVPA comes into play. Daniel and I have been internet acquaintances, but when I first saw him running around in his gear, I thought it was just him. Then I saw he had a whole line of clothing and I was all about it. I had been looking for new vegan gear to wear at races to spread the message. Then I found out about the team. Everything about the team lines up with my core beliefs of veganism. I have found a community of a wide variety of individuals from all over the world, here for one common goal, to show the world what we can do and inspire a few along the way.
I could not be happier taking the leap of faith and joining TeamVPA. It's only my first year, but I feel like I'm family. The support and camaraderie is energizing and motivating to say the least. I'm very excited to rep the team this season, inspire conversations, and watch as the rest of the athletes achieve all their goals this racing season