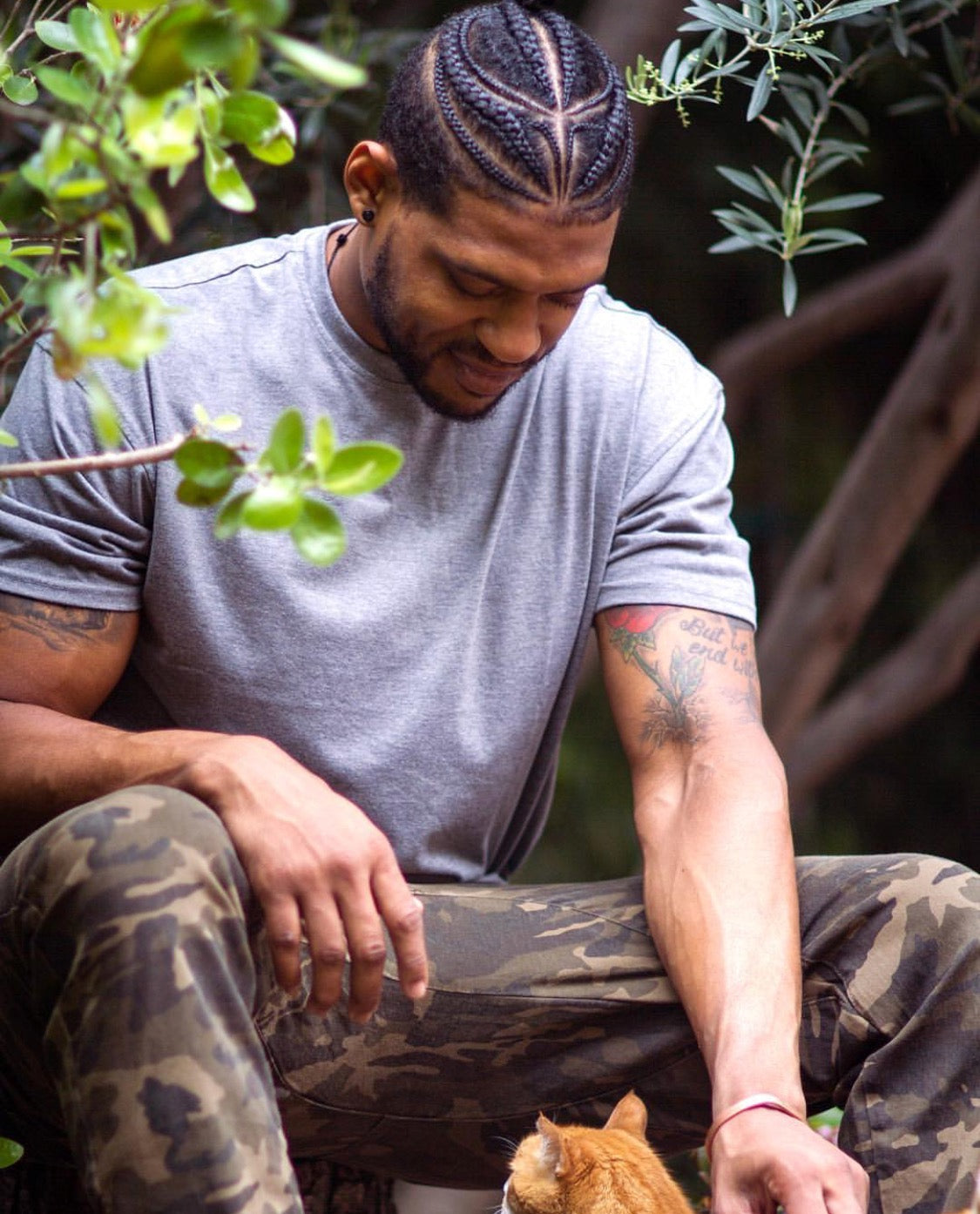 Superstar Highlight: David Carter
David Carter is a man with a storied history in the National Football League. The 30-year-old defensive linesman began his college career with UCLA, before being drafted by the Arizona Cardinals in the 6th round in 2011. Carter went on to play for the Cardinals, Cowboys, Raiders, Jaguars and the Chicago Bears before retiring in 2015.
Now that Carter is done with professional football, he can spend more time on his hobbies and interests. And it is interesting to note that veganism is something that Carter is very passionate about. You can find him speaking all over the world on the subject.  Now known around the globe as The 300 Pound Vegan.  Carter is a Vegan Activist and Speaker that is having a huge influence on the movement.  It is very rare that we get athletes, especially huge football players, talking about veganism as a serious option. Most athletes believe the preconceived notions they are fed about animal protein being the key to getting stronger and staying in athletics for longer. However, Carter's views on diet changed midway through his career, and he always recalls the story fondly.
How David Carter Turned to Veganism
It was in 2014 when Carter first had issues with his health that prompted him to consider that his diet was the problem. He was roughly 285 pounds at the time, and he was eating so that he could get back to the 300 he had been for most of his career. He believed that was the right move, given he was a massive defensive linesman in the NFL.
But Carter was in a lot of pain during that time. He had issues with his shoulder, knees and his fingers. But he did not think anything of it. NFL players hurt all the time. It is a brutal sport, and he figured he was lucky that it was not worse. Carter's views shifted when he watched a movie on Netflix about veganism, and how his diet could be the reason why he was suffering so much with injuries and long-term pain.
Dairy and Tendonitis
Carter was stunned when he learned about how dairy is one of the things that can have a huge impact on tendinitis. He just figured it was the sport that was causing his knees to go back, not the foods he was eating. Carter loved eating things like cheese, ice cream and milkshakes, especially when he was in a weight gaining phase.
The documentary he saw changed his views completely, and he stopped eating meat and dairy that day. He went completely vegan, and began his journey with a bean burger. The amazing thing is how the change in diet completely transformed the way that Carter looked and played.
He assumed that if he lost weight, he would get weaker. But he was getting stronger – able to lift more now that he was getting rid of all that fat on his body. He was faster, leaner and he was no longer in pain. Most of his joint pain was gone, and he was sticking to that vegan diet, even when he was lifting and training.
Carter got back up to the 300-pound weight that he wanted to hit. But he got back to that weight with muscle gain, not fat gain. He was eating healthy foods, and exercising even more. He was not relying on milkshakes and fat to get him to his weight target.
Veganism Can Work for Athletes
Carter is just one example of how a vegan diet can work for athletes. The famous NFL quarterback, Tom Brady, may not be a vegan, but he has often spoken about how going with a more plant-based diet helped him prolong his career. In fact, Brady is faster and more agile in his late-30s than he was when he entered the NFL, and he credits his diet for that transformation. So does Carter. And in the future, so will many more athletes.