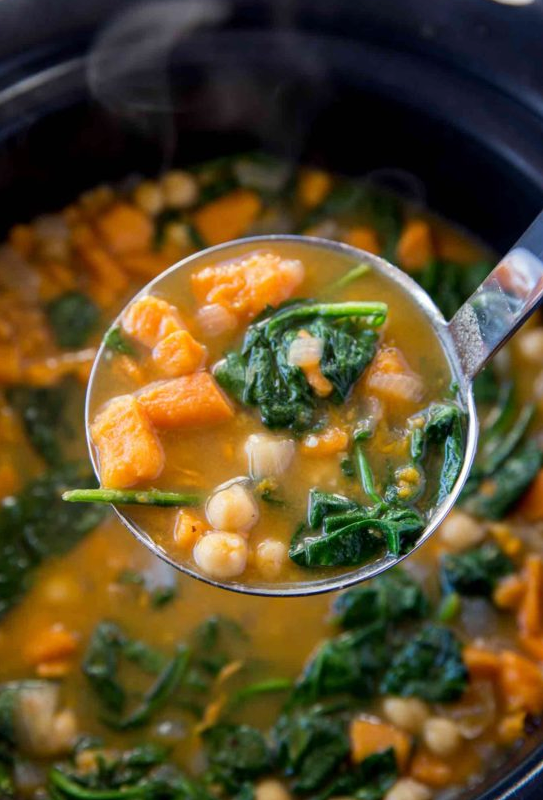 Sweet Potato & Chickpea Slow Cooker Stew
Sweet Potatoes are one of the best foods any endurance athlete can eat.  They are an excellent source of vitamin A. They are also a very good source of vitamin C, manganese, copper, pantothenic acid and vitamin B6. Additionally, they are a good source of potassium, dietary fiber, niacin, vitamin B1, vitamin B2 and phosphorus. And don't forget the ever important CARBS! 
This stew is great combining two power house foods!  Sweet Potatoes and Chickpeas!  Chickpeas are a great source of protein, fiber, iron and zinc.  
Prep Time: 15 minutes
Cook Time: 4 hours
Total Time:  4 hours 15minutes
Ingredients:
1 medium yellow onion, chopped
2 15 oz cans garbanzo beans, drained
1 pound sweet potatoes, peeled and chopped
4-8 cups vegetable broth (enough to cover in slow cooker)
1 tablespoon garlic, minced
1/2 teaspoon sea salt or kosher salt
1/4 teaspoon black pepper
1 teaspoon grated fresh or ground ginger
1 1/2 teaspoon ground cumin
1 teaspoon ground coriander
1/4 teaspoon ground cinnamon
4 cups fresh baby spinach
Instructions:
Chop and prepare ingredients
Add all the ingredients to slow cooker except spinach
Cook on low for 6-7 hours or high for 3-4 hours
Add in the spinach, stir and cook for another 15 minutes