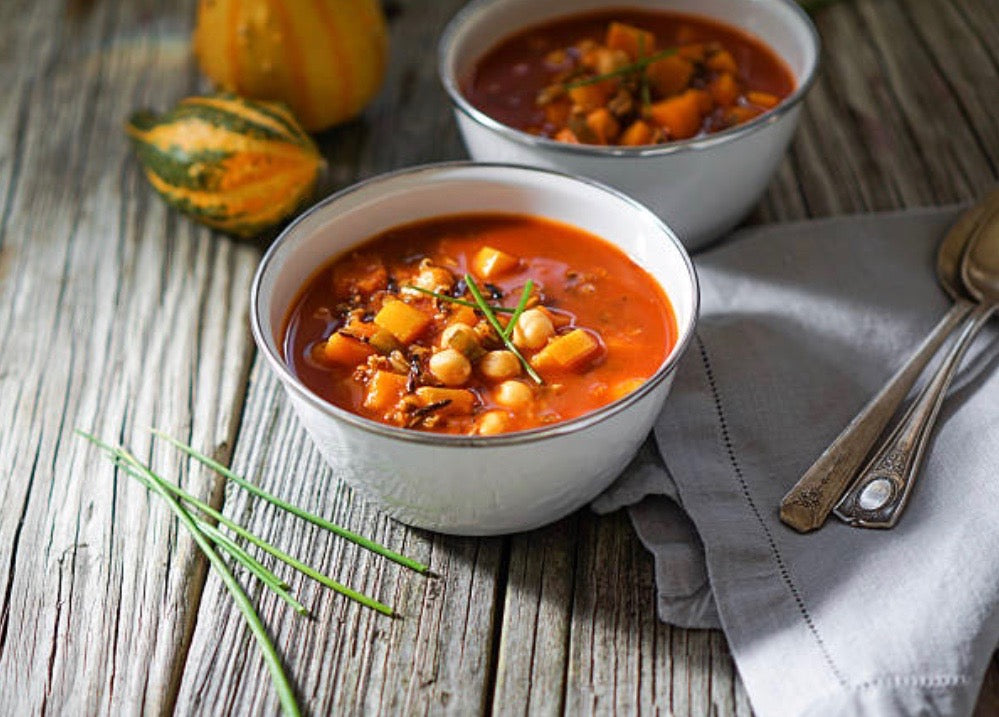 5 Day Quick & Easy Vegan Dinner Planner
There is a huge misconception that you cannot be vegan while being an elite athlete. But the reality is that athletes can not only maintain the same level of athletic performance while being vegan, but could produce even better performances. Many athletes from around the world have spoken about how adding more plant-based meals to their diet helped them with longevity in their sporting careers.
And it is a bonus that vegan meals are so delicious! Here is a five-day vegan dinner plan that should get your mouth watering:
Monday:
Healthy Vegan Chili –
If you are craving a comfort meal, this vegan chili will hit all the right spots. Start by preheating your oven to 400 degrees F, peel a small butternut squash and cube it into about one-inch pieces.
Take the butternut squash, toss it on the baking sheet and bake it for 20 minutes. While that is happening, use a large pot on medium heat and add a large onion, a few cloves of garlic and a few tablespoons of chili powder. After five minutes, add a couple of green and red peppers and cook for another five minutes. Then add a 24-ounce jar of crushed tomatoes and took for a further ten minutes.
Now you can add the butternut squash, along with a can of black beans and a can of kidney beans. Add some chipotle powder and sea salt to taste and let the mixture cook for another five to ten minutes.
Tuesday:
Chickpea Salad Sandwich –
For nights when you just want something quick and easy, this chickpea salad sandwich is the perfect option. Start with a 15-ounce can of chickpeas, mash them up so there are no wholes remaining and add the rest of the ingredients (three chopped celery stalks, two tablespoons of dill pickle relish, two teaspoons of seaweed flakes, onion powder, black pepper and two tablespoons of vegan mayo).
When everything is mixed together, simply serve it on top of your choice of bread or a green salad.
Wednesday:
Spiced Indian Tempeh with Vegetables and Quinoa –
Preheat your skillet on medium heat, use some coconut oil to get the pan greasy, and add 3.5 ounces of tempeh. Stir fry it until the tempeh is golden brown, and then add your choice of vegetables and spices. If you want the recipe to be even more delicious and filling, you can add some of your favorite salsa and a can of cooked beans. Then add a half cup of cooked quinoa, and you are ready to eat!
Thursday:
Green Pizza –
You always have the option to make your own dough, but store-bought pizza crust will be great too. Preheat your oven to 450 degrees F and coat some cooking spray on a large baking sheet.
When your dough is rolled out, spread pesto on it for a saucy and delicious base. Then you can add your choice of vegetables to the pizza. If you want some protein in your meal, tofu is a terrific topping option.
Friday:
Tofu and Spinach Scramble –
Take a 14-ounce package of firm tofu, drain it and cut them into half-inch cubes. Now combine your tofu with turmeric, a half teaspoon of black better and a quarter teaspoon of salt.
Heat a pan on medium-heat with your choice of oil, add three thinly sliced scallions to the pan and cook them for about a minute. When they are soft, add the tofu mix and cook it for about five minutes. Your tofu will resemble scrambled eggs by now!
You are ready to add a few handfuls of spinach, a teaspoon of fresh lemon juice and some salt. Stir until the spinach is visibly wilted, and then toss in a cup of grape tomatoes. When the tomatoes are heated through, you can take the pan off the heat.