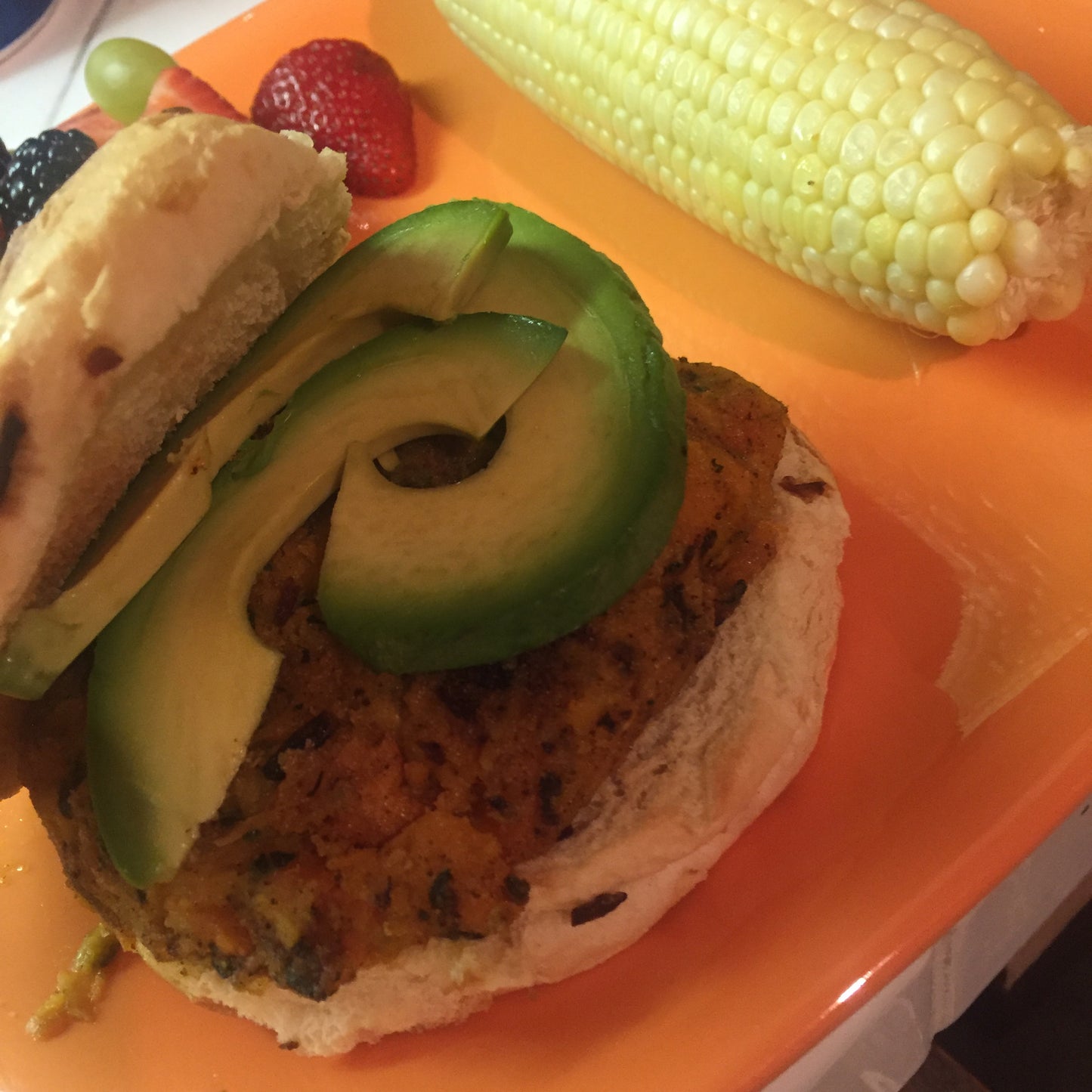 I'm always looking to find a way to eat more of this superfood!  Sweet potatoes are one of the best post recovery foods you can eat.  Sweet potatoes have a ton of health benefits for the endurance athlete.  They are extremely high in magnesium and potassium which aids in reducing cramps and preventing muscle spasms.  They also are full of Vitamin-C and Vitamin-E which have anti-oxidant properties and aid in muscle recovery and removing free radicals from your body.  Sweet potatoes have more of the anti-oxidant Beta-Carotene than any fruit or vegetable as well as a ton of iron, which is important in oxygen production. Sweet potatoes complex carbohydrates are stored and then broken down by the body for future energy and with the lowest glycemic index for any root vegetable, it causes a gradual rise in blood sugar so you feel satisfied for longer.  
I love this recipe because the sweet potato is not over powering in its flavor as my wife is not a huge fan of sweet potatoes.  So this is a great option for me to get more of the nutritional benefits and still make her happy with a meal.  And I am not the best cook, but this recipe is simple to put together and freezes well for future meals.  I cut the sweet potato into blocks to speed up the cooking (softening) process.  So total time took about 1 hour 20 minutes, but don't let that scare you. Prep time is only about 10 minutes and hands on cooking maybe another 20 minutes.  The rest is waiting for the sweet potatoes to bake and soften. You can get about 6-8 burgers out of this depending on the size you make.
Sweet Potato Burgers 
Prep Time: 10 minutes
Cook Time: 70 minutes
Total Time: 1 hour 20 minutes
Ingredients:
2 medium sweet potatoes, peeled and baked
1 can (425 gram) White Butter Beans (rinsed and drained)
1 medium Zuchini (Chopped into small pieces)
1 Small White or Sweet Onion
2-4 Garlic Cloves (Depending on how much you like garlic)
2-3 Tablespoons Tahini
1 Small Chia Ball (1/2 Tablespoon chia seed + 2 Tablespoon Water, let soak for 5 minutes)
2 Tablespoon Hemp Seed (Optional)
3/4 Teaspoon Apple Cider Vinegar
Small handful of fresh Cilantro (about 1/2 cup before chop) finely chop
Large handful of fresh Spinach (about a cup before chop) finely chop
1/2 Teaspoon Salt
1 Teaspoon Smoked Paprika
1/2 Teaspoon Turmeric
1/4-1/2 Teaspoon Black Pepper
1/3 Cup Coconut Flour (You can substitute your favorite such asBuckwheat, Oatmeal, Almond, Coconut, Etc)
1 tablespoon Coconut Oil (for skillet)
Vegan Buns of your Choice
Toppings:  
Your choice such as Avacado, Tomato, Vegan Mayo, Ketchup, Mustard, Greens, Etc. 
Instructions:
              Peel and chop Sweet Potatoes.  Bake covered with foil until soft (you do not need to cook all the way) for about 35-45 minutes @ 425.  Keep oven on but turn down to 200 when done.
Once Sweet Potatoes are soft combine with Beans and mash together.  I used the back of a ladle.  
             Saute Onion, Zuchini, and Garlic in skillet for 4-6 minutes.
Add Onion, Zuchini, and Garlic to large bowl.  
              Add remaining ingredients and continue to mash and combine in large bowl:Tahini, Chia Ball, Hemp Seed, Apple Cider Vinegar, Chopped Cilantro, Chopped Spinach, Salt, Smoked Paprika, Turmeric, Black Pepper, Coconut Flour
             Heat a skillet and add coconut oil.  Form a "patty" in your hands with mixture to the size you want for your burgers.  Once skillet is hot, sauté 2-3 minutes on each side just to brown and hold together.  Continue until mixture is used up.
Place burgers on baking sheet and pop in oven for 10-15 minutes until cooked through.  
             Serve burgers on toasted buns with toppings and sides you wish.  Fix it up just like any kind of burger you like.  Lettuce, Tomato, Avocado, Mustard, Vegan Mayo, Ketchup, etc.  
Enjoy and Freeze the rest for another day!