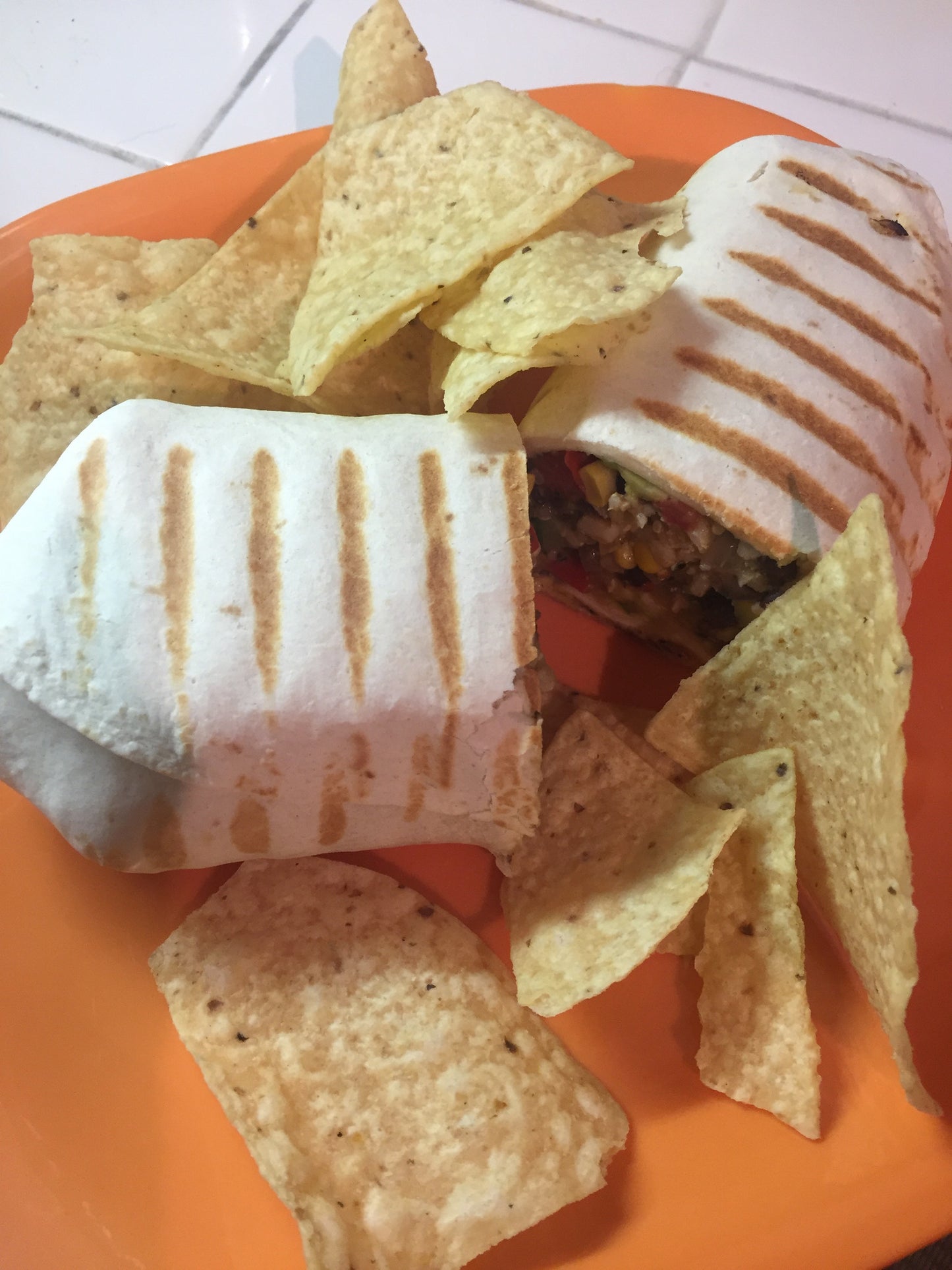 Black Bean & Rice with Squash Burritos
Looking for a Vegan Burrito packed with a ton of protein?  This is one of our favorite meals!  I make this burrito at least once a month and always have enough left overs for additional meals during my busy week of work and training.  Great for recovery after a hard work out or training session because it's packed with protein and carbs.  
Black Bean & Rice with Squash Burrito
Prep Time: 20 minutes
Cook Time: 15 minutes
Total Time: 35 minutes
Ingredients:
2 Tablespoon Coconut Oil (or preferred cooking oil)
1 Medium Sweet or Yellow Onion, diced
2-6 Cloves of Garlic (depending on your personal affinity for garlic) I use 6
2 Medium squash, diced - pick your favorite (Zucchini, Yellow neck, etc.)
1 Large Red Bell Pepper, diced
1-2 Jalapeños, diced (depends on your spicy tolerance) I remove the seeds
5 Roma Tomatoes, diced
1-15oz can of Corn or 1 cup frozen corn (no salt added preferred)
1/2 Cup Salsa
2-15oz cans Black Beans, low sodium, rinsed and drained
2 Cups Brown Rice, cooked
6 Tablespoon Raw Shelled Hemp Seed (Optional but great addition for flavor and added protein)
2 teaspoon Kosher Salt
2 teaspoon Black Pepper
1/2-2 teaspoon Chili Powder (again depending on your spicy tolerance)
4 teaspoon Cumin
1 teaspoon Oregano
1/2 Avocado per burrito
Sriracha Sauce, optional (again depending on your spicy tolerance)
2-8" Large Burrito Tortillas per burrito
Instructions:
Cook rice in a 2 quart sauce pan.
                   Prepare, (wash & dice) vegetables.
Heat 4-5 quart sauté pan with coconut oil.
Add diced Onion and sauté for 2-3 minutes.
                   Add minced Garlic, diced Squash, diced Red Bell Pepper, sauté for 6 minutes stirring frequently.
Stir in Salt, Pepper, Chili Powder, Cumin, Oregano, Salsa and Hemp Seed
Stir in Corn and diced Roma Tomatoes, heat until warmed about 3 minutes.
Stir in rinsed Black Beans and Brown Rice, allow to heat for about 2-3 minutes. 
Preparation:
Heat a 12" Griddle.
Overlap (by about 4 inches) 2 tortillas onto a plate.
                                               Smash 1/2 Avocado into tortillas and add Sriracha (optional...HOT) if preferred.
Add Burrito Mixture onto tortillas (depending on how big you want to make) I use about 2 cups.
                   Roll Burritos, tucking in corners.  Place on griddle for about 30 seconds each side.
                                               Serve up HOT with any sides you prefer. This usually makes us about 12 burritos.
If you don't anticipate eating 12 burritos in the next couple days the burrito mixture freezes well.  We have taken on trips when availability of Vegan food is in question, even camping!