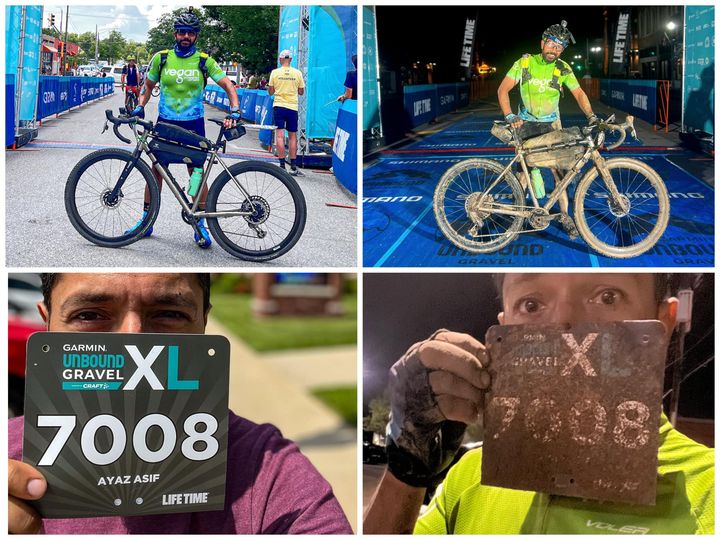 Team VPA Athlete Ayaz Was One of the Few to Conquered Unbound Gravel XL
Unbound XL 2023, 353 miles through hell and back, took just under 36 hours of the allotted time to finish (beat the cut-off by 5 minutes). Hands down the hardest thing I've done on a bicycle (and I've completed an Everesting). Out of 156 riders who started this insanity there were only 47 official finishers, yes 109 people called a quits - some very strong elite athletes. Some did still finish well after the finish line was taken away and I have so much high praise for those
amazing people.
A rundown of my Unbound Gravel XL Adventure
The consistent rain turned many roads into long stretches of peanut butter clay that clinged on to anything and everything. Many long sections were unrideable and had to be walked.
Mile 0 (June 2nd 3:00pm) The start.. 25 or so miles in, temps dropped real fast, crazy strong headwinds, lightning, thunder, and rain drops the size of water balloons, I thought it was hail from the way it was pelting me.
Mile 101 (June 3rd, 12:15am): My chain fell off because of said mud working it's way into the drivetrain. The chain proceeded to wrap itself around the crank and twist/jam under it. Never seen anything like it. I had to pull at it for 15 minutes before I finally freed it. Multiple links were twisted and I had to shorten the chain by 5 links and piece it back together - effectively losing my easiest climbing gears. I was moving again though, much to the surprise and delight of some of the other riders who passed me while I was working on repairs.
Mile 210 (June 3rd, 2pm): Shifting completely stopped in my 3rd hardest gear! I thought it was the eTap battery but a new one didn't help. So I had a pretty hard single speed bike (38/16 ratio) for 140 miles. Some hills were impossible and had to be walked. Anything over 5-6% I was laying down over 400 watts.
Mile 315 (June 3rd, 10:15pm): Rear flat, seemed like a slow leak so filled it with a C02.
Mile 320 (June 3rd, 10:45pm): Completely rear flat, maybe a bad valve? No cognitive function after 32 hours to troubleshoot. Had to put in a tube. Rolling again.
Mile 325 (June 3rd, 11:15pm): Going slow on technical descents to avoid pinch flats, but hit a drain pipe buried under the mud, and fell down really hard. Not sure how I didn't break my collar bone. I did bash my left shin into a big rock. Rear flat again! So much for trying to avoid a pinch flat. Put in my last and final tube. A rider passing by graciously offered me his spare C02 as I was out and would have spent a while inflating with the hand pump.
I was now going nervously fast hoping to avoid any rocks or bump and finding the smoothest line for the last 17 miles, except for the overflowing creek crossing with who knows what lay under the water. Pure adrenaline took over. I constantly checked the time/distance remaining - trying to figure out average speed felt like performing mathematical proofs. On more than one occasion I felt like the universe didn't want me to finish, especially on that hard fall. I did finish (on June 4th, 2:55am), all for the reason I started, a sense of accomplishment. I am not a fast or strong athlete but I don't really care to be, I find satisfaction in pursuing things that push me beyond my perceived limits - it's what makes me learn more about myself and grow as a person.