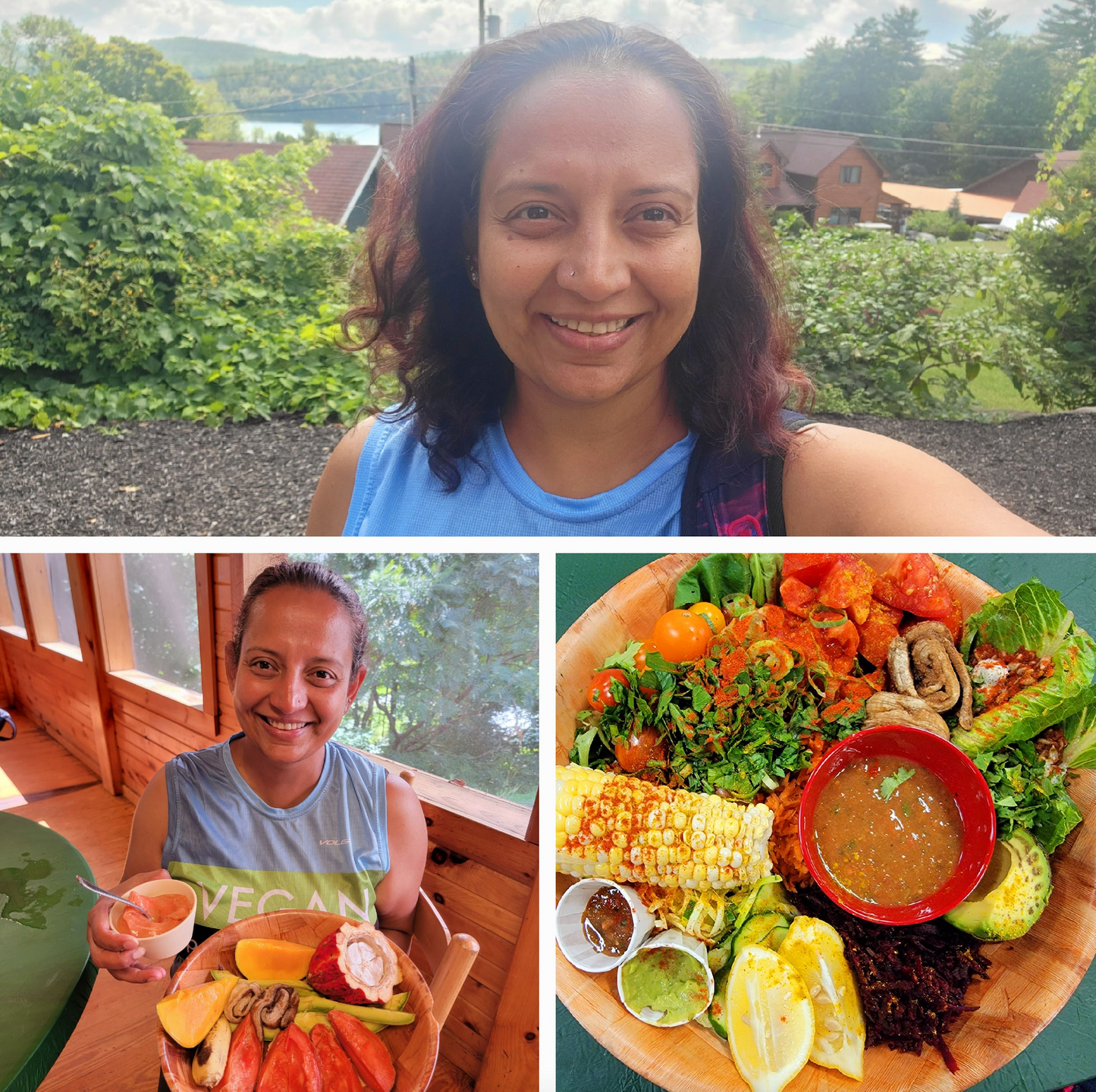 Team member experience at Woodstock Fruit Festival
From the time I had heard about the Woodstock Fruit Festival I have always wanted to go. I mean , what's not to love about eating raw for 7 days and spending time with a lot of like minded people. I always put it off saying I could go another year. This year the timing coincided with a week after my daughter left for college. I didn't want to sit and feel sad so I booked my spot, got my plane tickets and left for Woodstock on Sunday Aug 21st. That was a brave move coming from me since I actually didn't know anyone else except a couple of  facebook "friends" .
The Woodstock Fruit Festival was set up in Camp Walden nestled in the beautiful Adirondacks. The camp is perfect for huge camps and is about 10 mins away from the gorgeous Lake George. We would start the day everyday with a smoothie station or unlimited organic fruit. There were so many activities one could participate in - Yoga, Tai-Chi, Sound bath meditations, Body Weight classes, Watermelon workouts , Self Massage classes, Tapping sessions, Breathing sessions, talks about how to be successful on a raw vegan diet, how to bring up kids on a raw vegan diet, tie-dying , go-karting, wall climbing and of course swimming, running and hiking. Each day I would lay out the activity I wanted to participate in because there was so much to do and so little time :) At around 11AM we had fresh coconut water and sugarcane juice. Lunch would open up with unlimited fruit and I looked forward to eating mangoes everyday. I had never tried Mamey Sapote until I got to WFF and I fell in love with the fruit. I also ate such delicious Durians almost everyday while I was there.  In the afternoons we would take one of the classes , do one of the activities or get a mud bath and jump into Lake Trout where the water was absolutely glorious. Dinner would be early with a huge salad bar with delicious dressings and also fruit for those who wanted to indulge in that instead. I also met so many people with different backgrounds and ethnicities .Got to hear a lot of healing stories from people on why they started eating a raw vegan diet.After dinner people could either go to restorative yoga and sound bath healing meditations or take part in the many soiress , talent shows or just dance the evening away. 
I left Woodstock after making several friends and committed to eating at least 2 raw meals everyday .  The 7 days I was there , I thought I would miss my morning decaf or the salt - I actually didn't. I instead had a ton of energy from eating raw and had a few compliments on how my skin was glowing when I came back. The next Woodstock festival is scheduled to be in Feb in FL and I am really excited about going back! I can now see why people go back year after year. The appeal of eating living foods while having so many amazing conversations is enough for one to go back. Literally the best adult summer camp ever!
Provided by Deepthi
IG @triveganeveryday