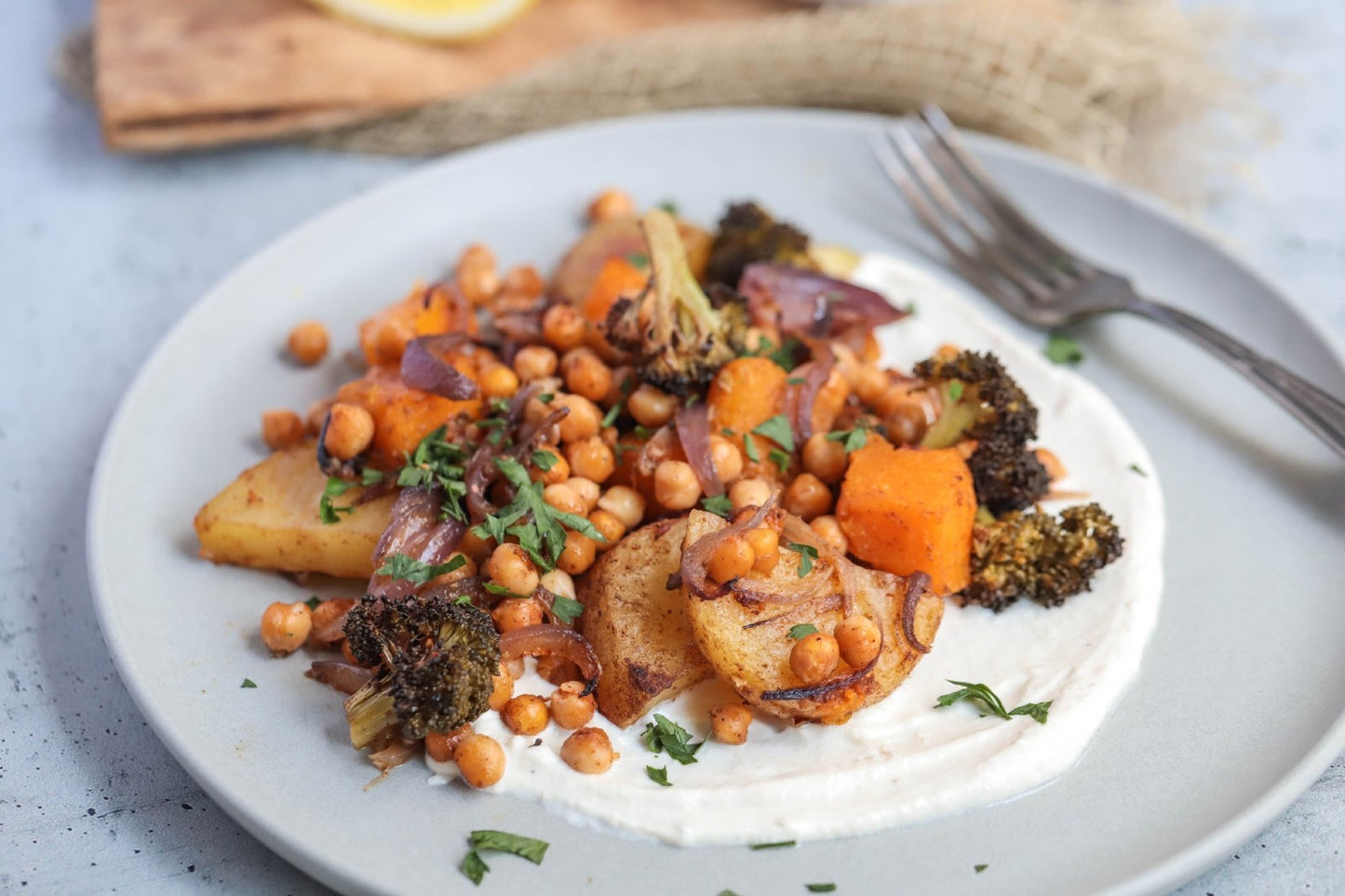 Simple Vegan Thanksgiving Delights: Main Dish & Dessert So You Can't Go Wrong
Thanksgiving is a time for sharing meals and giving thanks with our loved ones. However, it can be a challenging time for those following a plant based diet. Traditional Thanksgiving dishes often center around meat and dairy, making it difficult for vegans to find suitable alternatives. This can make the holiday season a bit less festive for those who have chosen to follow a vegan lifestyle.
However, fear not! There are plenty of delicious and satisfying vegan alternatives to classic Thanksgiving dishes that can please even the most discerning of palates. From flavorful plant based main dishes to mouthwatering sides and delectable desserts, there are numerous options available that will make your Thanksgiving feast a hit with everyone at the table.
Here are two recipes from Vegan Powered Nutrition that are sure to impress even the staunchest of meat-eaters.
Roasted Vegetable Traybake with Yogurt Tahini Dressing
Serves 4
7 oz. (200g) potatoes, chopped bite-sized pieces
9 oz. (250g) butternut squash, peeled & chopped
1 head broccoli, chopped
1 red onion, sliced
2 cloves garlic, minced
14 oz. ( 400g) can chickpeas, drained
1 tsp. of olive oil
1 tsp. ground cumin
1 tsp. smoked paprika
1⁄2 tsp. ground cinnamon pinch of salt & black pepper
For the yogurt tahini dressing:
7 oz. (200g) natural soy yogurt
4 tbsp. tahini
1 clove garlic, minced
1⁄2 lemon, juiced
pinch of salt & black pepper, to taste
What you need to do
Preheat the oven to 360F (180C).
Place the potatoes, butternut squash, broccoli, red onion, garlic and chickpeas on a large baking tray. Drizzle with olive oil, season with cumin, paprika, cinnamon, and a pinch of salt and pepper, and toss them together.
Place the baking tray in the preheated oven and roast for 30 minutes. After 15 minutes, gently flip the vegetables over to ensure they cook evenly.
While the vegetables are roasting, prepare the yogurt tahini dressing. In a medium bowl, combine all the dressing ingredients, adjust the seasoning with salt and pepper to taste.
Once the vegetables are roasted, remove them from the oven and serve with a generous spoon of the creamy yogurt tahini sauce.
*Nutrition per serve. **Zero-rounded macro values contribute to overall nutrition.
Serves 12
12 oz. (350g) all purpose flour 2 tsp. baking powder
3.5 oz. (100g) coconut sugar 1⁄2 tsp. baking soda
pinch of salt
5 fl oz. (150ml) olive oil
2 tsp. vanilla extract
1⁄2 tbsp. apple cider vinegar
1 orange, zested
6.8 fl oz. (200ml) almond milk, unsweetened
3.5 oz. (100g) blackberries, chopped
1 apple, peeled, cut into cubes
For the topping:
1 apple, peeled, sliced
3.5 oz.(100g) blackberries, halved
What you need to do
Preheat the oven to 350°F (160°C). Line an 8" (20cm) round cake tin with baking paper, or use a silicone cake tin.
In a large bowl, combine the flour, baking powder, coconut sugar, baking soda and a pinch of salt. Gradually add the olive oil, vanilla extract, apple cider vinegar, orange zest, and almond milk, stirring to create a thin batter. Gently fold in the chopped apples and blackberries.
Cover the bottom of the cake tin with the sliced apple and halved blackberries with the cut side facing up. Pour the cake batter on top, spreading it evenly to cover the fruit.
Place the cake in the preheated oven and bake for 55-60 minutes, or until a toothpick inserted into the cake comes out clean.
Remove the cake from the oven and set aside to cool in the tin for 30 minutes, then carefully remove the cake from the tin, flipping it onto a plate.
Serve straight away or wait until cool.
Store leftover cake in an airtight container on the countertop for 3-4 days.
*Nutrition per serve. **Zero-rounded macro values contribute to overall nutrition.
Vegan Powered Nutrition is also offering a selection of 15 vegan powered recipes for FREE.  These recipes provide not only delicious flavors but also all the essential nutrients to keep you feeling energized and healthy throughout the holiday season.
So, whether you are a long time vegan, a newbie to plant based eating, or just looking to incorporate more vegan powered meals into your diet, our recipe collection always has something for everyone.  From breakfast to dinner, snacks to smoothies, and of course, desserts, our collection has everything you need. Get the first month of recipes FREE here. 
I hope you enjoy these recipes and make this Thanksgiving a truly delicious and satisfying celebration.
Thanks https://veganpowerednutrition.com/ for the recipes.