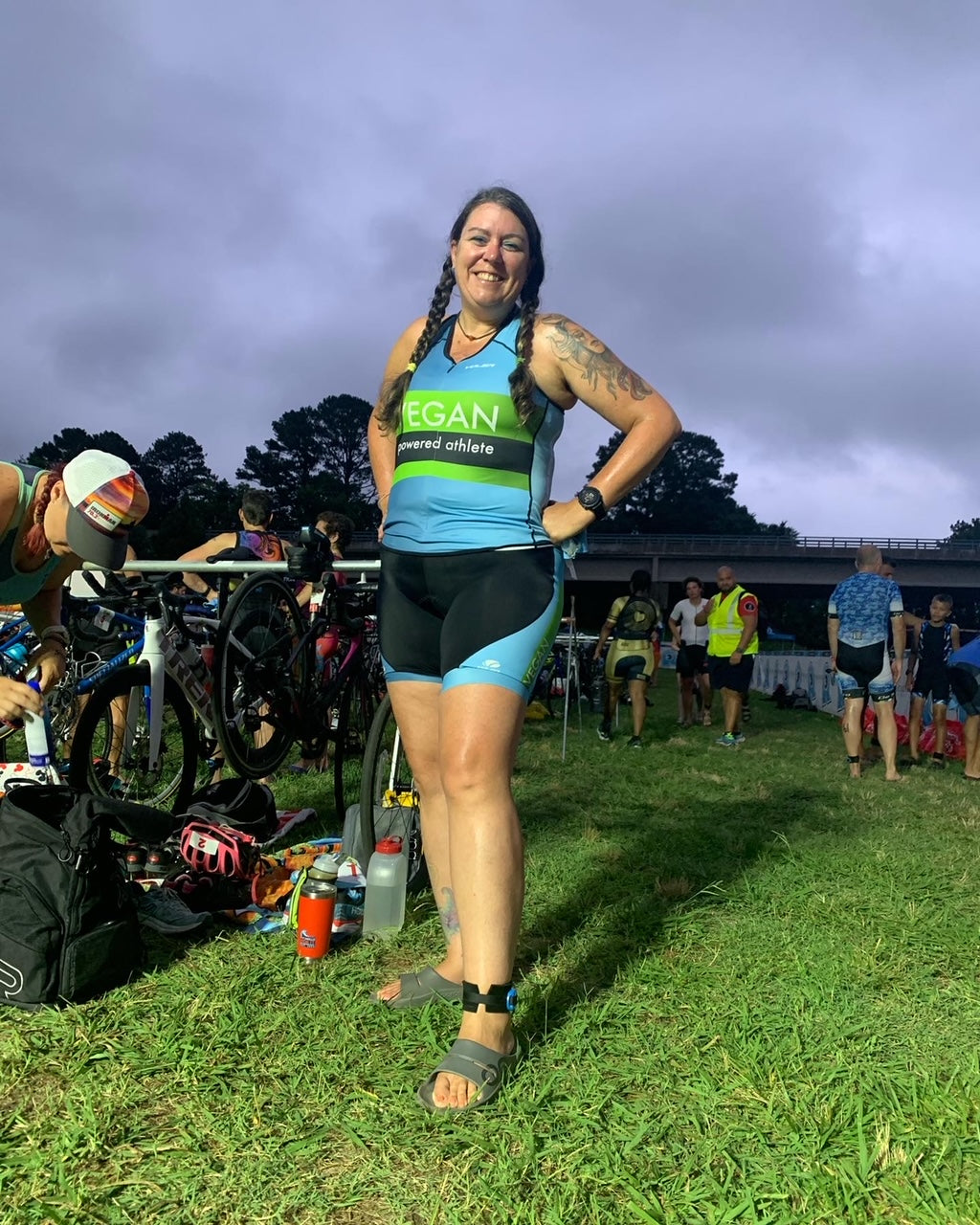 Last week you heard about my volunteering for Rev 3 Williamsburg, now I will tell you about my race.  So I just did the sprint triathlon, easy peasy right?  Most triathletes can do this without training, and for the most part so can I…although I never do.  I am always "training" just in case. I mean it's a sprint, what can go wrong?  Most of the time, nothing.  
We got up early and only had to walk to transition since we were camping on the race grounds.  Got my gear all ready in transition, I had bib #1 because I am awesome like that.  Ha! (No it is because I volunteered the day before and was the first to check in).  I had no worries about the race, I had protein pancakes for breakfast with coffee and some water.  We had some downtime between setting up transition and starting the swim so we went back to the camper and hung out.  The swim start was about 100 yards from our site so I had no concerns about missing the start.  Got to the boat ramp, saw some friends from Ainsley's Angels so I went to say hi and wished them good luck.  They got to start first, for obvious reasons.  A few minutes later we were off.  
I had a great swim.  It was a river swim so you know what that means..yup, swim with the current.  This  2:10/100 yard swimmer clocked at 1:46/100 yard swim and it was that slow because I didn't shut my watch off until I climbed the ladder out of the water onto the pier and half way up the pier…could have been faster.  Now, our bikes were a hike away…because we had to play the tide game and got to swim the current, that means that the river took us away from transition so we had a "nice" little .8 of a mile run to T1…yes you heard me, we had to run almost a mile to get to our bikes.  Thankfully we were able to drop shoes (Tiva's for me) at the swim exit for that nice jog.  Needless to say my T1 time was in the 17-18 minute range, how's that for a T1?  Oh well, get on my socks, get on my bike shoes, hit up some small nutrition (Solely fruit jerky) grab the helmet and Betty (my bike) and off I go with my Flow swishing in my water bottle on my bike, I take off for the 13 mile ride.  It is overcast, but pretty warm and humid, it is Virginia, what do you expect?  Now, I am not the fastest cyclist, I just like riding so I am cruising at an average maybe 15-16 mph.  Since it was overcast and I just got out of the water, at no time did I feel I "needed" to take a drink of my oh so yummy and energy pumping Flow that is swishing away in my water bottle.  I complete the bike in 49 minutes and walk Betty back into transition.  I switch out shoes, grab my hand held water bottle that had Nuun in it, my VPA hat and away I go….yeah um, I forgot my race belt that has my bib on it and I was #1 too, so all my pics have no #1 on them on the run. Boooo.  Just a quick 5K, no problem.  I usually don't even take water on a 5K run with me, but I knew after all this working out and the humidity, I needed to grab something.  
Started the run, pretty much we had a hill immediately on our first turn (a bridge that we also had to navigate on the bike twice).  Passed up water/gatorade at the first water stop at mile 1 because I have my Nuun, don't need it (so I think).  Get to the halfway point, turn around start trekking back…get a few "VEGAN" shoutouts, which was cool.  Grabbed water at the 2nd water stop and threw it on my body.  At this point the humidity is getting to me, it is pretty warm, yet still overcast.  My handheld water bottle with my Nuun is almost gone.  Get about .25 from the end and I start getting chills and shivers.  Crap, not good.  It is hot and humid out and I am getting chills.  I knew I messed up.  Not enough fluids, not enough nutrition, but I am going to work through it.  I still have some Nuun left.  I am drinking that, take off my hat to cool off, but keep going.  Finally at the short stretch and almost to the finish line.  Keep pushing, my bestie, who has been by my side through the whole race, because that what besties do, goes ahead because I tell her to go.  Plus two other friends had some cool signs with her name on it so she ran through the finish with them.  I came across the finish, so glad for it to be over.  In a daze get my medal, grab a water bottle and guzzle about half of it, grab a nice ice cold towel and head over to my bike in transition.  I need something, I don't know what, but I need something.  Drink more water, walk in a daze over to my bestie who is now waiting for the awards to start, she has pretzels, I am shaking and ask for her pretzels, she looks at me and says "we're going to the medical tent."  Get to the medical tent, blood pressure is "impressively low" (I've always had low blood pressure) and heart rate is fine considering I just got done running.  So all good on that front.  Needless to say, I was fine, just low on nutrition and fluids.  That being said, I missed the awards ceremony where I found out I came in 3rd in the Athena Category and was not able to get on the podium with the others. Lesson learned, hydrate, hydrate, hydrate, no matter the distance.  Proper nutrition is key, I did have protein pancakes for breakfast, but should have followed up with some liquid nutrition throughout the day.  Next sprint tri, you bet your booty I will be making sure I hydrate throughout the race as well as eat an appropriate meal before.
So HEV…Hydrate, Eat, and Volunteer and have a fun fun time.  That is what life is about, so let that bleed into your sport too.