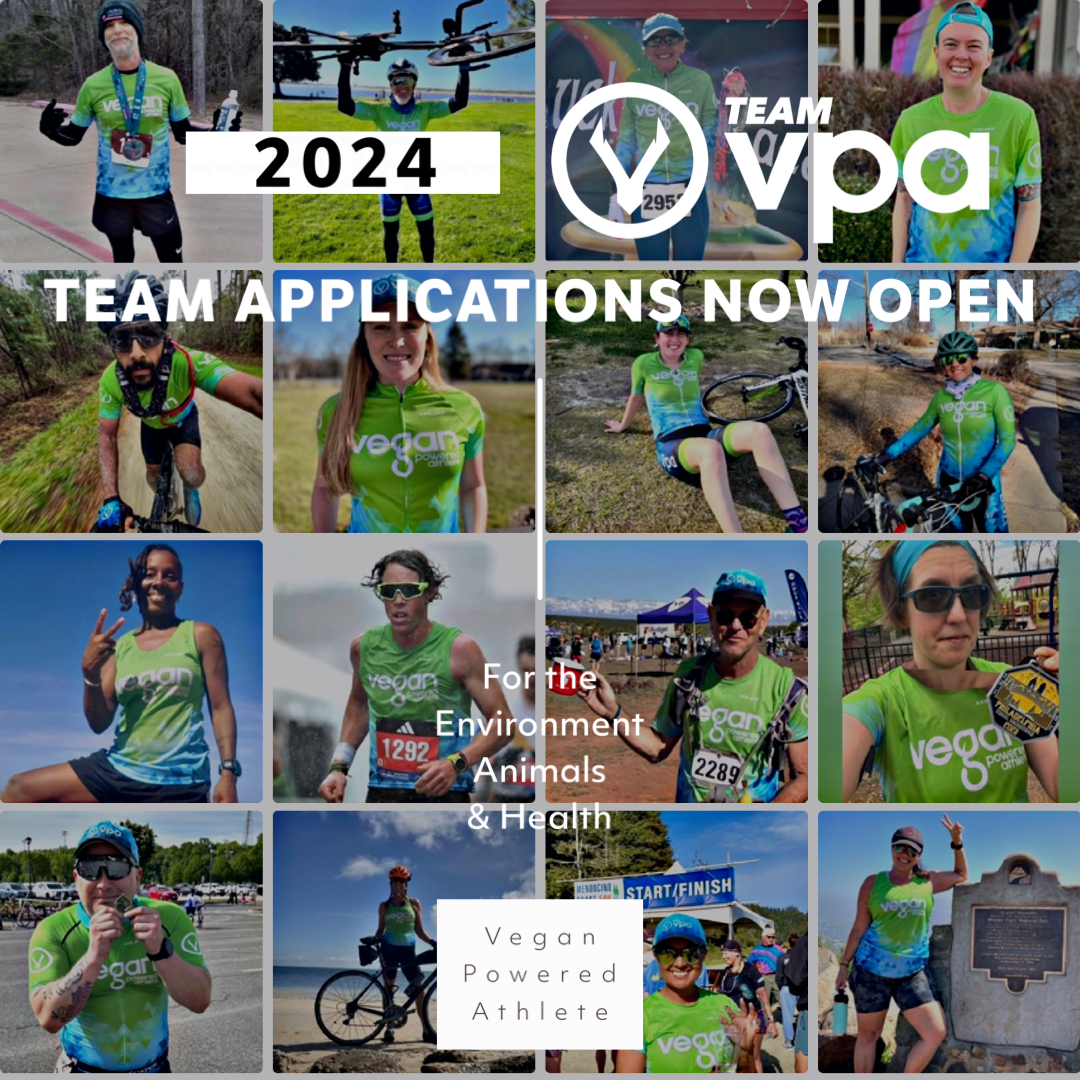 2024 Team VPA Application
The Vegan Powered Athletes (VPA) team was established in 2021 with a clear mission: to promote the Vegan message through the world of sports. This diverse team consists of athletes ranging from beginners to seasoned podium achievers, participating in various sports such as triathlons, running, cycling, rucking, crossfit, and Spartan races. While their primary focus is on training hard and excelling in their respective sports, they also value the journey and the camaraderie that comes with being a part of a team. They prioritize being friendly, encouraging, and supportive, regardless of an individual's background. If you exhibit these qualities, as well as a desire to engage in discussions about Veganism without uttering a word, this team is perfect for you. Whether you are motivated to protect animals, the environment, or your own health, or if you simply want to spread awareness by wearing Vegan apparel, Team VPA offers a community of like-minded individuals who are dedicated to living a vibrant, ethical, and Vegan lifestyle.
Team VPA welcomes athletes of all levels and from all countries across the globe. Since its inception, the team's main goal has been to promote an active Vegan lifestyle by adopting a positive, educational, and inspiring approach. We believe in meeting people where they are at in their individual journeys and becoming embodiments of what a Vegan can achieve. Through their participation in sports and the activities they engage in, Team VPA members aim to spread the Vegan message worldwide. And what better way to do so than through the gear they wear? The team recognizes that their apparel presents a unique opportunity to plant a seed and inspire strangers they encounter along their journeys.
If you are ready to join the VPA family in 2024, there are certain requirements that you must fulfill. First, you will need to purchase the 2024 Team VPA Ambassador Box, which costs $59. Additionally, you must purchase at least one piece of 2024 Team VPA gear from our gear partner, Voler. The starting price point for an outer top is approximately $60. Being Vegan is also a prerequisite, as the team is dedicated to promoting a Vegan lifestyle. Furthermore, you must possess a passion for living an active Vegan lifestyle and a desire to be part of a community that shares your commitment to sports and Veganism. Finally, you should strive to meet people where they are at in their journeys and be a positive influence, whether they are already Vegan or not.
As a member of Team VPA, you will receive several benefits. Upon joining, you will receive a Team VPA Ambassador Welcome Box, which includes an exclusive Team VPA Podium T-shirt, hat, water bottle, and wristband. In addition, the box will contain samples and coupons from VPA's partners. Throughout the year, you will also enjoy a 25% discount on all Vegan Powered Athlete merchandise (excluding Voler gear). Moreover, you will gain access to exclusive discounts, coupons, and samples from VPA partner and sponsor brands. Additionally, you will receive a special 15% discount code for Vegan Powered Athlete merchandise, which you can share with your friends and family. Team VPA will feature you in spotlight posts on their social media outlets, providing you with additional exposure. The team also organizes challenges, gatherings, and contests on social media, where you can win prizes. To facilitate communication and interaction among team members, there is a private Facebook group hub, Discord channel, private Strava club and Team Calendar.  Furthermore, Team VPA arranges regular Zoom meetups and team events to foster a sense of community.
If you want to be part of Team VPA, you must submit your application by October 30, 2023. On November 3rd, we will announce selections via email. Upon completion of the application, you will need to pre-order the Team VPA Ambassador Box. If you are not selected, the team will refund your purchase in full by November 3rd. Additionally, you must order the Team VPA Voler Gear by November 13th, a link for purchasing will be included in the welcome email sent on November 3rd.
If you meet the requirements and are ready to make a difference, join Team VPA in 2024 and be part of our journey to promote Veganism worldwide.